Posted by Marcia Price on Nov 27th 2015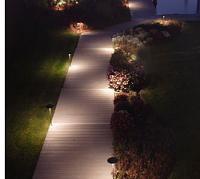 Solar Landscape Lighting and Solar Garden Lights Save Energy
Many people still think that this environmentally friendly and conserving energy thing is just a waste of time and "energy". It is not going to make much difference in the world if they just continue what they have always done. They say, "Solar Lights? Yeah, they look nice, but I already have electric lights outdoors and they still work just fine!"
To doubters for changing to outdoor solar landscape lighting, every time your electric light fixture comes on, it hits your pocketbook. Every electric light starts that electric meter going round and round, and it shows up every month on your electric bill. I personally do not know anyone that greets their electric bill with a smile, and happily writes that huge check each month.
To everyone else, you know we need to start conserving energy now, protect our future, and quit using so much oil. We need to use what nature has provided us; free solar powered energy from the sun. You can control your electric bill destiny!
Outdoor solar garden lights require no electricity, no wiring or electrician, and you won't even have to change light bulbs. The LED bulbs last up to 100,000 hours, that's over 25 years! The light fixture is sun charged during the day, and turns on automatically when the sun goes down at night, without having to flip a switch.
Solar walkway and driveway lights will provide soft, glowing ambiance and add to the beauty of your outdoor landscape. Electric lights can create a bright, harsh light that drowns out the beauty of the night time stars, and washes out the landscaping you spent a lot of time and money to perfect.
If you're serious about conserving natural resources, including water, you can actually create landscape and garden areas using solar to reduce the planting, watering and maintenance space in your yard. There is nothing more soul warming at night than a wonderful seating area, with a backdrop of trees or bushes, lit with spot lights that have a soft white LED color. Anyone would feel very welcome spending time there.
Take a look around your own back yard and entrance area to imagine what you can create! There are garden statues and solar magic globes to add sparkle and color to your outdoor living space. Designate a protected habitat for solar animal garden lights. Add a solar water fountain, totally solar powered and recirculating, to take up a lot of space, then put turtles and frogs around it for a unique design flavor. You can even set up a 365 day garden with flowers and color changing solar stake lights that float through the night air. The possibilities are endless!
Let's all work together to stop the drain on pocketbooks, resources, and the harsh light outdoors. Go green with outdoor solar lights!